Home >> United States & Canada >> Finance & Economics
Print
Will The Government Help or Hurt Hurricane Sandy victims?
Todd Spodek, Esq. - 2/21/2013
Hurricane Sandy left many devastated, unable to recover because for some people and businesses, loans because impossible to acquire. Even the short term loans and the personal loans are hard to get. Real estate prices have further down. Current mortgage rates today are inconsistent because the banks are having a difficult time pricing housing values. The economy of New York's outer Boroughs as well as other areas hit by the hurricane was just barely recovering from the so-called Great Real Estate Recession, only to see the housing market hit badly once again. Early estimates of the Superstorm were between $7 billion and $20 billion, but the final impact on the market will probably be in the tens of billions of dollars, maybe as much as $45 billion dollars in damage to private property, both residential and commercial.

It is likely that Sandy will have cost our economy more than Hurricane Irene. Furthermore, coming so soon after mega-hurricane Irene just a year later, Sandy has the potential to permanently devastate parts of the East Coast. At the same time, disasters can provide a jolt with smarter investment as people are forced to reorganize in a way that is more efficient than before. Just as the nation came out of wars stronger than before, it a disaster on top of a massive recession can leave the nation stronger in the long term. Two weeks after Superstorm Sandy the Labor Department reported that the economy grew by 171,000 jobs. Another 146,000 jobs were added in November. Whether these jobs will remain after the rebuilding process is over is yet to be decided.

Some experts have argued that the rebuilding effort will result in $15-$20 billion in new private spending. We must remember, however, that this money is coming out of private pockets and would've likely been spent on something else had the hurricane not taken place. We can't just say that this is new money in the economy. It is the same money that existed before, merely redirected to another expense.

Consider a restaurant that may lose customers who will not go out as much now that they are sinking money into the rebuilding effort. Consider a clothing store that might not sell as much because people no longer have the cash to spend on clothes. Consider a hotel that will get fewer guests because people will be spending their vacation money on the rebuilding of their homes and businesses. That's where those $15-20 billion will be going.

But where the opportunity lies is with the less efficient businesses. A store with inadequate clientele that will get insurance funds may not re-organize to focus on something else or may move to a new location. Old, small homes that owners, many of whom purchased them through no credit check loans may be rebuilt as bigger real estate properties. Homes on the shore may be replaced by much more cost-efficient hotels and other tourist accommodations.

This does not mean there will be no loss - both temporary and permanent - to people whose lives are being disrupted. But if the government can facilitate the process of rebuilding properly, economic renewal has the potential to leave the communities as a whole better off than before, even as a minority of individuals may lose out.

Factoring in the multiplier effect of making the community stronger, better, safer and wealthier, the long-term prospects could be excellent for Zone A residents. But will the government do the right thing or will they mess up the Hurricane Sandy rebuilding effort just as they've done with so many other projects? Time will tell, but the residents of Zone A need to get loud to fight for themselves.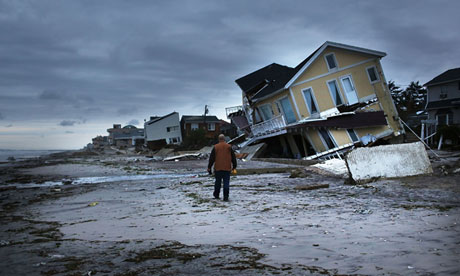 Todd Spodek is a New York criminal defense lawyer, focusing on drunk driving and felony matters.

| | |
| --- | --- |
| Related Articles | More By This Author |
| | |